Key Terms
Emphasis -states that the most important element on the page should be the most prominent, the second most important element should be secondary in prominence, and so on. Obviously I am emphasizing my key terms, by both bolding and them and adding color.
Visual Hierarchy – simply refers to the arrangement of visual elements such as type and image on the page according to their order of importance and, consequently, emphasis. I have arranged it so the emphasized words are all the same color, and thus easier to make out.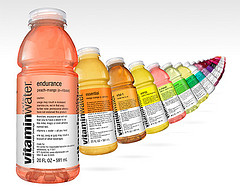 http://www.flickr.com/photos/46415220@N05/4302860910/sizes/s/
 I thought this was a pretty good example of visual hierarchy as the Vitamin Water bottles get smaller as they go down the line, but despite not being able to read the ones in the back, they still are visually eye catching because of how the bottles are moving, and because of the colors of the waters.
Focal Point – the visual element or part of a page that is most emphasized and therefore where the reader's eye goes first.
Accents – are secondary and tertiary focal points because they accent other important points on the page.
Content – the words and phrases and graphics on your page.  Obviously all the content on this page.
Summary
Kind of an easy reading to summarize, as the main point of the chapter is explained in the title, emphasis.  The chapter discusses emphasis, how to use and how not to use it, and the key ways in which you can make what you are presenting more eye catching and memorable.  The book goes through many examples of how to use this tool, and goes through various techniques of each of its key terms. These examples work to show what is most important (obviously emphasizing) such as making font bigger and bolder, or shading in certain pictures, etc.  Some of this seems rather obvious, like you don't want to make what you are presenting too boring, or have all the words be the same size. However there are also some extremely helpful points in this chapter, that I had never though of, such as positioning the item so all of the other elements lead to or point towards it, and I had never thought to shadow items.  I also found it very interesting to not overuse emphasis, that many novices use it far to much and it ends up taking away from their finished project.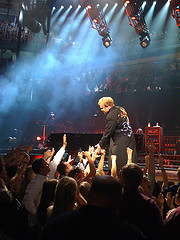 http://www.flickr.com/photos/doreedeleon/3907941744/sizes/s/
What's emphasized in this picture?
Can these principles be applied to a still life photo?
Graham, Lisa. Basics of Design: Layout and Typography for Beginners. Albany, NY: Delmar, 2002. Print.