New Media/ Old Media
"This new computer revolution is arguably more profound than previous ones" (Manovich 19).  The introduction of the printing press only affect one stage of cultural communication – the distribution of media, just as photography only affected still image.  However, in contrast, the media revolution that is the computer affects all stages of communication, including acquisition, manipulation, storage, and distribution; along with all types of media – texts, still images, moving images, sound, and spatial constructions (Manovich 19).  The article seems to be pointing to the fact that our idea of new media (dvds, cds, virtual reality) is just the tip of the iceberg, as it is not just what computers are producing, but instead how integral computers have become in society.  As stated before, early versions of media focused specifically in one field, whereas the computer can be used in almost every form of media.  Manovich's definition of new media does not seem to be just the inventions of new forms of technology, but how these forms of technology have become integral in almost every field of media.
http://www.theverge.com/2012/9/14/3329456/twitters-revolution-becoming-an-old-media-company
Link to an article explaining how Twitter has entered the world of old media.
This article is a timeline of media from its inception to what it is doing today.  Manovich discusses how in 1839 daguerreotype was invented as a new reproduction process and how following this, a media frenzy began.  He also discusses how in 1833, Charles Babbage began designing "the Analytical Engine".  This engine contained most of the key feature s of today's digital computer.  Punch cards were used to enter both data and instructions, and this information was stored in the Engine's memory (Manovich 21).  He goes on to discuss how far we've come in technology, as in today's society all existing media is translated into numerical data accessible for the computer.  The result:  graphics, moving images, sounds, shapes, spaces, and texts become computable, that is, sets of computer date (Manovich 25).  This timeline is all a way to show the reader how media became new media (Manovich 25).  Manovich goes on to state how the computer has become a media synthesizer and manipulator (26).  The timeline aspect was a cool approach to take as he was able to show us how past forms of technology can be integrated into today's vast world of endless growing media.  I agree with him in how media has grown over the years, and I especially liked his way of explaining it, it made it more fun than some of the other articles.  He didn't overstate himself and was direct and to the point on how media has changed over time and ultimately become on an integral part in our lives.
Manovich's key terms accompany his  "Principles of New Media" which does not say every new media object obeys, but they should still be considered as general tendencies of a culture undergoing computerization (Manovich 27).
here is a link that teacher you the basics of writing code.  I thought it was cool and that it pertained to the reading.
All media objects are composed of digital code; they are numerical representations ((Manovich 27).  I like to think of the streams of code running down the screen in The Matrix.
Modularity
"The fractal structure of new media." A new media object has the same modular structure throughout (Manovich 30).  Seems like a consistent base throughout media, so no matter what is added; the base structure never changes, like the foundation of a house.
Automation
Human intentionality can be removed from the creative process, at least in part (Manovich 3).  I viewed this as systems set up to allow the work load to be easier on humans, such as an assembly line in a factory, or even an automated floor buffer for a janitor.
Variability
A new media object is not fixed, but can exist in different, potentially infinite versions (Manovich 36).  It is the consequence of coding and the modular structure of the media object (Manovich 36).  Without these factors variability would nor exist, and would return back to old media.
Transcoding
Automation and variability across far greater landscapes than would ever be expected.  Probably greater ones than this, but the first thing that came to mind was writing the code for Facebook.  I'm sure they were jacked in at a computer, and were sending pages of code to various aspects that needed to be filled.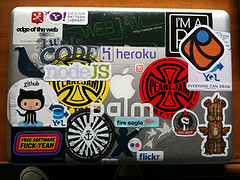 Discussion Question
What will New Media become?
http://www.flickr.com/photos/lachlanhardy/4994596090/sizes/s/
I thought this picture was cool because it seems like a programmers computer, and if you click on this hyperlink and look at the source, the original user made notes on each of their picture, some which pertain to programing.
Manovich, Lev: The Language of Media. MIT Press: Cambridge, Massachusetts / London, England 2001.